Whirlpool Targets New $22-M Multi-Family Housing Development for Riverview Drive
Based on a goal of supporting housing that will be attractive to a diverse pool of employees and city residents, Whirlpool Corporation has announced a major new 80-unit multi-family housing development to be constructed at 170 Riverview Drive across the street from the company's Benton Harbor Tech Center near the former ship canal.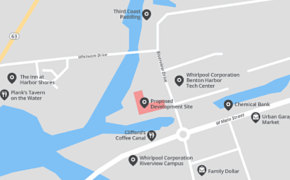 The Benton Harbor City Planning and Economic Development Committee at its regularly scheduled meeting tonight voiced support of the $22 million project, planned to open in the Fall of 2022, and has sent it on to the city's Planning Commission and then the full City Commission. The project would also see Whirlpool invest $800,000 for road improvements and water/sewer connections. Market rate rents on the project would tentatively range from $1,075 to $1,400 per month.
The program is expected to assist Whirlpool in recruiting high quality talent, and is a direct response to Chairman and CEO Marc Bitzer's Equality Pledge, "a multi-year commitment to improve Black representation at all levels within our company and take specific community-building actions in areas in which we have operations."
Mayor Pro-tem Duane Seats, who also serves as the Planning and Economic Development Committee Chair, says, "Success for our community and Whirlpool will only be achieved if more underrepresented minorities, including Black and other minorities, go to work in our area and choose to live in this new development or anywhere else in the city of Benton Harbor."
Seats went on to say, "Throughout our country there is a realization that diversity is good for companies and cities," adding, "It has been over 35 years since the parcel of land has been used for anything meaningful, and our community will benefit from the economic activity of the expected 110 residents who will live in the space."
Whirlpool Corporation will work with a developer selected by a Request for Proposal (RFP) process, and a property management firm will be engaged to operate the facility and encourage a diverse and representative composition of the project, while preventing the waterfront units from becoming vacation rentals.
Planning and Economic Development Committee Co-Chair Mary Alice Adams, says, "We welcome all tourists into our community, but this unique development needs to attract permanent residents." Adams adds, "Our community needs more residents, including minority residents who are part of the growing professional employment base within our region, and this project is a great step forward in making that happen."
With the full support of the Planning & Economic Development Committee, the project moves to the City Planning Commission for consideration next Tuesday, May 4, 2021.
Source: Moody on the Market
Full story at: https://www.moodyonthemarket.com/whirlpool-targets-new-22-m-multi-family-housing-development-for-riverview-drive/