Waterfront Framing Transitions to the Valerie Byrnes Era in Downtown St. Joe
Valerie Byrnes spent her formative years in the realm of community and economic development, running a regional chamber of commerce and in her last role of that type working in small business development, helping small business owners. She admits, "The more I supported people and assisted them in the launch of their business, the more I recognized that that same spark still existed in me as an entrepreneur."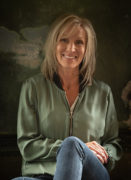 She is a "Yooper" by birth (from the Upper Peninsula of Michigan), but is rapidly adapting to the place on Lake Michigan she was continually drawn to until fate made it certain that she would drop anchor in the port of St. Joseph through her acquisition last year of Waterfront Framing & Fine Art from Ned & Diane Wollenslegel.
Valerie says she and her husband decided that St. Joseph seemed like the perfect fit, and confesses, "We sort of did a millennial thing. We picked the community first and found the job after, right? which is pretty common nowadays," then adds, "It would be my goal long-term to have my feet on the ground doing work that supports exactly what we've talked about and that's business growth."
Valerie says as her own entrepreneurial spirit was revived, she and her husband found themselves at a crossroads "Where we would look at a community and say 'where do we want to be when we grow up? What does that look like. We've raised our kids, now where do we want to be?'" She admits, "We had driven up and down the Lake Shore and St. Joe kept coming to our mind and you know, God works in mysterious ways and he connected me through mutual colleagues and friends when I had heard about Ned and Diane being potentially interested in selling, and as soon as I came in to meet them, I think it was New Year's Eve, no less, it just felt right. It felt like a business that I could do justice to."
Her spirit was moved when she realized having the business would, essentially, as she puts it, "Let me have a creative side of building frames, connecting colors, putting it all together, which I love. The artistic side has a piece of my life. and while I'd not been trained, I would say I have an eye for it, and that's the most critical part."
Now, after training side-by-side with the Wollenslegels for the past year, meeting the loyal clientele and helping Ned & Diane transition towards retirement after 20 years in the business, she's embarking on putting her own mark on the popular framing, design and art shop in downtown St. Joseph's central business district.
Starting this coming Monday, October 5th and running through the 31st, she's hosting a major clearing sale on many things in the shop located at 606 Ship Street, just around the corner from the Golden Brown Baker downtown. She says, "Ned and Diane have done a great job in establishing the footprint and the client base and they, like all entrepreneurs, have done what we all do and that's to sort of test the market with the products that you bring in." Some such pieces were perhaps bought at shows and tested in the local market, and may have lingered longer than usual in a retail shop, so Valerie says, "I'd like to bring in some new fresh works. I'm starting to get more and additional local photographers and local artists, to make way for what the Millennials might like, because there's an entirely different market out there that maybe we haven't touched."
Pretty much the whole month of October will bring sales opportunities to make way for some painting and refreshing of the store." Valerie says, "Since we don't have a lot of storage space, my ideal solution is get much of this artwork into the hands of individuals that love artwork as well." She'll be the first to recognize that it's a tough process to let go of things that have value and are beautiful but sell at less than maybe what they're valued at, but adds, "I think it's a great opportunity to put artwork out there into a new home for each piece, but also to give me the space and chance to recreate our image to the community."
Currently Waterfront Framing & Design will stay open from 10:00 till 5:30 Monday through Thursday and on Fridays and Saturdays from 10:00 to 5:00 and that will maintain. Valerie says, "I might do a couple of special events, sort of pop-up types of things throughout the whole month and I'll be publicizing most of that on Facebook where I have been getting some traction."
Valerie bought the business last July (2019) and that gave Ned and Diane a good opportunity to segue toward retirement, not wanting to fully step out but remaining deeply committed to the downtown community, and wanting to make sure that whoever came in next was just as committed. That gave her an opportunity to segue from her own day job and career, which had been in community and economic development and to get her mind around things like, "What does owning a retail space in downtown St. Joe look and feel like, and I've been so impressed by the community overall as well as the loyalty of the customer base that exists in this community."
Recognizing the importance of businesses to a community, she says, "I love that Buy Local, Shop Local, is a piece of it all. I've always been an entrepreneur. I love small business. I'll forever dabble in that in my life. And the idea that this was an existing, established business and not having to start from scratch was a breath of fresh air for me and it was an opportunity that my husband and I really felt like wanting to segue over to  and be a part of the community."
The couple maintain a home in Allegan, where he's a principal at the Allegan Tech Center, and she laughs, "So he gets to drive a mile to work and I get to drive an hour." She adds, "We did get a small rental here as well, because we wanted to stay engaged in the community and this summer it gave us an opportunity to be here and enjoy the beach."
In addition to conducting a clearance sale preparatory to putting a fresh face on the store, Valerie is providing the additional nuance of tweaking the name from the old Waterfront Framing and Fine Art to her new iteration of Waterfront Framing and Design. She quickly notes that "Fine Art still remains the lifeblood. We have Fine Art, but we also have Fun Art too, and we have decor and so I've switched that up to add 'Design' so that people can think about their space in a design sort of aesthetic way."
A newly developed logo has been prepared and will be revealed this fall when the shop re-opens from the freshening. By way of explanation, Valerie says, "We'll probably take a little sabbatical in early November, for about 10 days or so to repaint a little bit freshen up a few things and then come back strong in mid-November in time for Christmas, still be able to support a little bit of the retail component as well as be ready to rock and roll with some  frame building for specialty gifts for Christmas."
One thing that Valerie especially loved about St. Joe as she was comparing the town to some of the other beach communities along Lake Michigan is that, "It is a year-round community and not everyone has that luxury as a community, so there's a huge opportunity here."
She also says she immediately recognized that Waterfront Framing has a very stable customer base, saying, "This community is rich in people that will support local business, and so I love that, but what I also recognize is a lot of missed opportunity where people are walking by and they look into the shop and they feel like well, I don't have anything to frame."
That's why she's committed to a bit of a revamp to offer some new decor options, saying, "It creates a revenue stream for me and it also gives people a reason to come in and maybe come back, and I'm seeing that a lot, building a loyal customer base is not the difficult part. The difficult part is getting them in the door to want to explore in the first place."
Keep in mind, too, that at Waterfront Framing, it's not just about framing flat artwork like photos and paintings, they are a full custom frame shop offering unique framing of keepsakes, sports jerseys, and many other sentimental or important objects and beyond. They also offer original artwork, prints and framed pieces ready for hanging. Additionally, they can replace frames, mats or glass as needed.
Look for some great deals over the next month as the clearance gets underway, and watch for the new look and decor this fall at Valerie Byrnes' Waterfront Framing & Design in downtown St. Joe. Keep tabs on everything going on, by clicking to her Facebook page:
https://www.facebook.com/waterfrontframing
Source: Moody on the Market
Full story at: https://www.moodyonthemarket.com/waterfront-framing-transitions-to-the-valerie-byrnes-era-in-downtown-st-joe/