Van Buren State Park Expands by 17-Acres Thanks to DNR Agreement
The popular Van Buren State Park has gained 17-acres this week thanks to approval by Van Buren County officials of a 25-year lease with the Michigan Department of Natural Resources to expand the park's footprint to include the Northpoint Conservation Area located in South Haven Township.
The 17-acre parcel of land borders the northern boundary of the park and boasts significant natural, scenic, ecological, biological and recreational assets. Existing hiking trails are popular for bird watching and lead visitors through rare, forested dunes to breathtaking views of Lake Michigan. The trails are open to hiking year-round.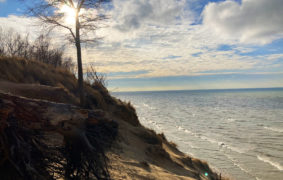 The new arrangement will place day-to-day management with the DNR.
Richard Godfrey, Chair of the Van Buren County Board of Commissioners says, "We're excited to formally connect both parcels of public land through this unique partnership with the DNR," and adds, "Because the DNR already manages the adjoining land, we determined that establishing common management would best ensure that the fragile, critical dune land is preserved and remains accessible to the public."
Set along a 1-mile-long stretch of Lake Michigan shoreline, the state park is home to high dune formations, a modern campground, woodland trails and a day-use area. The park's most prominent natural features are its sandy beach, forested dunes, inter-dunal wetlands and diverse vegetation.
Approximately 340 feet of additional lakeshore will join seamlessly with the already existing mile of state park beach.
Matt Metzger, Supervisor for Van Buren State Park, says, "This is a great opportunity to partner with Van Buren County," adding, "We look forward to playing an active role in management of such a unique piece of land and helping make it a special place for visitors to enjoy for years to come."
While much will remain the same, visitors can expect to see new site signage, revised hours of operation, and more consistency among land use rules and the requirement for the Recreation Passport between both parcels. By way of example, parking along Ruggles Road will now require a Recreation Passport.
Source: Moody on the Market
Full story at: https://www.moodyonthemarket.com/van-buren-state-park-expands-by-17-acres-thanks-to-dnr-agreement/