Vaccine Supply in Berrien County Now Outstrips Demand as Health Officials Urge Action
Last week Gov. Gretchen Whitmer rolled out the "MI Vaac to Normal Plan," focusing on increasing vaccination rates in order to ease capacity restrictions, crowd sizes and more in a bid to return to normal across the state.
While the graduated percentages will play a role in achieving some sense of normalcy, at least in Berrien County officials are now reporting that the ready supply of COVID-19 vaccines now outstrip demand at a time when everyone is working to get more shots into arms.
Spectrum Health Lakeland President Dr. Loren Hamel reported this afternoon, "It wasn't very many weeks ago that we had lines in our computer registrations, sometimes lines at our vaccine clinics where a lot more people wanted our vaccines than we had vaccine doses for. Around Berrien County, and around the country, that now has shifted. We now have more doses than we have willing arms, and we're modifying the way that we interact with the public to try to encourage the most convenient way for you to get that vaccine by taking it to doctor's offices, and other places where people are just normally coming anyway, to make it as convenient as possible for you to get the vaccine."
Hamel, and Berrien County Health Officer Nicki Britten updated the community today on the current status of the pandemic, with Hamel cautioning that, "Around the world this is not over yet. As you have probably heard, we have more new cases in the world in the last two weeks than was the case in the first six months. It is not over yet, and every time you have that kind of explosion of new cases, we absolutely expect variants to come out of those kinds of experiences, and those variants are mostly the ones we're most concerned about because they are sometimes more deadly, but the best way to attain the decreased measures of restrictions the governor is seeking, is to get vaccinated. The risk of the vaccination is decidedly less dangerous than the risk of the virus, I just encourage everyone to get the vaccine."
The two updated the numbers locally, with Britten saying, "I am pleased to report that we are continuing to see a decline in cases, we're at an average now of about 36 new cases per day over the last seven days. We peaked a couple of weeks ago around 60 new cases per day, after being in the 50's for a period of time, hit 60 and have been gradually coming back down. Our increase, then flattening and now decrease has somewhat mirrored the trend in the state, but fortunately Berrien County had far fewer rates of cases than many areas of the state."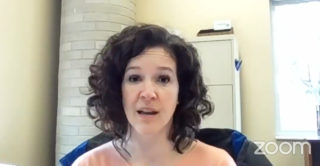 She also addressed the rate of positivity among COVID testing, noting, "Our percent positivity has somewhat stabilized at 12-percent, and that probably seems high, because for a long time we were at 5- or 7-percent and got used to those single digit numbers, but some of the ways that tests are being deployed now and how some of the people are getting funneled to the test is making it more likely that we're going to find positive tests, so I know there's a real effort underway to help normalize the interpretation of that data.: She adds, "I wouldn't be necessarily alarmed that we're in those double digits at this point, as our hospitalization rates are decreasing, our case rates are decreasing, our deaths are definitely down, so all of those things working together give us a good picture, and I don't want people to get too hung up on our double-digit percent positive rate."
Addressing the governor's "Vaac to Normal" plan, Britten says, "Now we have a pathway forward, for using vaccinations as a protective factor to be able to change some of the broad mitigation strategies we've put in place. Even with this plan we still have the need to maintain social distancing, we still have to practice all of the basics that we have been doing and need to continue in order to get there, but it does continue to incentivize getting our populations vaccinated."
She says that we are at 57,000 people in Berrien County that have received at least their first dose of vaccine, or about 46-percent, suggesting, "so we've got a little bit of work to do before we start hitting the different steps along the 'Mi Vaac to Normal Plan,' but, again, that's a benchmark, it's not once Berrien County gets there we can move forward, it's a statewide movement through those stages, but everything we do here in Berrien County contributes to that, and that's really important."
Dr. Hamel then posed a question, "I have to ask you Nicki, given our current trend line of vaccination rates, when will we hit that first threshold?" Britten responded today, saying, "I would say a lot of that is in the hands of the community. When we think about vaccination and our effort to get more people vaccinated, I think everybody can understand that there are some people that have been highly vaccine-motivated on one end of the spectrum here…they have done all of the things to seek out vaccine appointments as soon as they were available to them, and they have gone out of their way to become vaccinated. That has been very helpful and that's a large portion of the people that have been vaccinated so far." However, she points out, "We also know there are some people in our community and across the state that are just never going to be vaccinated for one reason or another, and that's okay, too. There is not a mandate on this vaccine, however we want to make sure that people who are making that decision are doing it with really, really accurate information and full understanding of the risks and the benefits on all sides of that decision."
The tough part comes in that space in the middle, between the people who are motivated and the people who are absolutely not going to do it, and Britten says, "There are a lot of people out there who are willing to be vaccinated, but it's really more about convenience. If they don't have to plan really far in advance, if they don't have to use a confusing website to make an appointment, if they can just drop-by or if somebody comes to where they already go, and it doesn't have to be an extra effort on their part, a lot of people that are currently un-vaccinated would be very willing." The end result, for now, is definitely slower progress, with Britten noting, "It has taken us four months to get to 46-percent, and it might take another few months to get another 10-percent of our population, so I do not predict that we as a state are going to get to 55-percent in the next month. However, some of that does have to do with people who want to be more 'vaccine convenient' so we are adjusting our strategies as healthcare providers in Berrien County, to get vaccines to where the people are, instead of getting people to come to us, and that will help accelerate, but you're absolutely right, Dr. Hamel, the rate of vaccination is certainly slowing down and we want it to continue to increase."
With that in mind, the Berrien County Health Department reminds everyone, "There are many ongoing opportunities from multiple providers across the county including one very large Pfizer clinic at Watervliet High School tomorrow, May 5th, with walk-in appointment opportunities, so you can just show up and they will get you vaccinated."
Addressing the improving trendline in Berrien County of late, Dr. Hamel adds, "Those gradually decreasing trends in the community are something we're seeing in the hospital, too. We're running in the mid-30s (number of people hospitalized with COVID), and when we talked with you a few weeks ago we were running in the mid- to high-40's and we've been as high as 80 in November of last year, so we're encouraged when those numbers are going down."
Despite the declines, Hamel warns, "I would just caution all of you that this is still making younger people very sick. For the folks who come to the hospital, it is not an easy journey. They are very sick. They're on oxygen and on ventilators, and some are still passing away. While we're grateful that the numbers are down, it is not an easy time for those who happen to get sick. Additionally, I would tell you that this is utterly exhausting to health care teams across the state, including our team at Spectrum Health Lakeland. We have been fighting so hard and so long and all across the country health care workers are just burning out from the constant stress and the constant tension of taking care of very sick people, and losing too many to this disease." He concludes, "Although our numbers are going down, we appreciate everything you can do to protect yourself and help insure that those around you are protected so that we don't need to meet you in our emergency and room and talk about how much oxygen you're going to need, or whether or not you're going to have to intubated, as that is not a journey you want to be on, so please continue to be careful."
Britten also had a message for those who are concerned after hearing about some of the side affects from the vaccine experienced by people you might know, reminding, "Not everyone has those side affects and for many they are brief and more of an inconvenience, but they are still far less inconvenient than getting the virus and being sick or hospitalized for considerably longer, so please consider getting yourself vaccinated soon."
Source: Moody on the Market
Full story at: https://www.moodyonthemarket.com/vaccine-supply-in-berrien-county-now-outstrips-demand-as-health-officials-urge-action/