United Way Preps for 10th Annual Rake A Difference Day
As we age, there are things that we can easily continue to do on our own, and then there are those things that are better left to people with more mobility, agility, strength and stamina allowing us to remain safe. That's the essential concept behind the wildly popular and highly successful annual "Rake A Difference" day in Michigan's Great Southwest from United Way of Southwest Michigan.
Before winter hits, raking your yard and cleaning out your gutters is a vital step to ensuring spring snow melt does not cause water damage to your home or lawn. However, many area seniors try to accomplish this work on their own, putting them at risk for falls and serious injury. United Way of Southwest Michigan invites the community to lend a helping hand as preparations for winter get underway.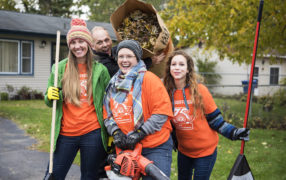 On Thursday, November 12th, hundreds of area volunteers, working as teams, will help seniors in Berrien, Cass, and Van Buren Counties rake and bag leaves and clean gutters as part of United Way's 10th annual "Rake A Difference." The service is free of charge and serves seniors, age 60 and older, who are unable to perform yard work and can't afford to pay for services. Seniors are helped on a first-come, first-served basis, dependent on the number of volunteers available.
Anna Murphy, President of United Way of Southwest Michigan, says, "Every year, we receive an outpouring of thanks from seniors who are helped by our 'Rake A Difference' event. It means so much to them that volunteers do the hard work of raking their yards and cleaning their gutters." She adds, "Likewise, our volunteers love creating such meaningful impact in our community."
Volunteers and seniors can sign up at this link: http://uwsm.org/rake-a-difference Seniors can also sign up by calling 269-932-3554. The deadline for both is October 16th.
You can find more information at that link as well.
Volunteers are encouraged to snap photos during "Rake A Difference" on November 12th. United Way of Southwest Michigan's Facebook fans will vote on their favorite photo, and the winner will receive a delicious prize package and a cool "Rake A Difference" trophy. Photos must be posted to Facebook using the hashtag #RAKEADIFFERENCE to be eligible to win.
United Way is grateful to this year's generous "Rake A Difference" sponsors, which include:
Major Sponsor
Frederick S. Upton Foundation
Gold Level
AEP Indiana Michigan Power
Silver Beach Pizza
United Federal Credit Union
Silver Level
French Paper Company
Gast Manufacturing
Hanson Logistics
McLoughlin Family Foundation
Bronze Level
1st Source Bank
Andrews University
Kruggel Lawton CPAs
Mutual of America
Niles Precision Company
TCF Bank
Vail Rubber Works
Wolverine Mutual Insurance Company
United Way of Southwest Michigan fights for the Health, Education, and Financial Stability of every person in every community. They have the influence and relationships to make sustainable change a reality. By harnessing resources from corporate, nonprofit, and public partners, they provide immediate assistance to the most vulnerable populations among us, while addressing the root causes of the community's longstanding challenges and changing lives for the better. To join the fight—through giving, advocacy, and volunteering—visit online at www.uwsm.org.
Source: Moody on the Market
Full story at: https://www.moodyonthemarket.com/united-way-preps-for-10th-annual-rake-a-difference-day/