Timothy's Restaurant of Harbor Country Crafts Excellence Palette for Palate
Timothy Sizer's artisanal talents are renowned throughout Harbor Country and all of Michigan's Great Southwest, but dining in his popular Timothy's Restaurant along Red Arrow Highway at Union Pier is increasingly like touring a fine art museum at the same time. A palette for your palate, if you will.
The recent unveiling of his amazing new "Odyssey of the Sea" hanging glass sculpture at the center of the main dining room at Timothy's is just the newest entry in his colorful palette of art spread throughout the restaurant at 16409 Red Arrow Highway in Union Pier.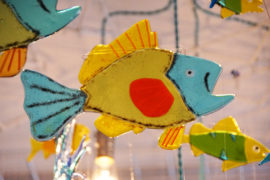 Odyssey of the Sea is the latest creation by O'Hearn & Fielding Glass, and features 64-square feet of swirling waves and whimsical fish.
Timothy says of the new installation, "That was my vision, and they created exactly what I asked them to create. I couldn't be more happy. I wanted it to look like you were kind of looking into a big aquarium or the ocean, and the waves kind of represent the water looking through with the fish in the middle."
The new art is not the first of its kind at Timothy's. In fact, six years ago in 2014, Timothy asked Cindy Fielding if she could create some small receipt boards to be used when people charge meals on a credit card. He found out quickly how successful they were as in less than 90-days all of them had disappeared. So, Carolyn O'Hearn crafted several large fish boards for the walls of his restaurant which was at that point still at a nearby Inn. In January of 2017, they were again busy making large scale wall pieces to surround Timothy's main dining room at his new location on Red Arrow. Later that summer, Tim asked the creative duo to develop a chandelier for the center of the main dining room, and it originally featured 52 hanging fish, drawing rave reviews from diners.
In the ensuing years, Carolyn & Cindy have treasured Timothy's support of their work, and he was always handing out their business cards to promote them. That simple exchange led to many guests later commissioning works of their own and drew visits to their Fusion Gallery & Studio in Bridgman. The two say, "We are thrilled to have had this opportunity and hope all Tim's guests enjoy this fun sculpture," adding, "We feel honored that our artwork is on display at such a prestigious restaurant."
While the installation itself is now complete, Timothy plans more, saying, "I'm going to get a lighting specialist to figure out how to light it properly, so it almost glows." He explains his love for the glass art, nothing, "I always loved the Dale Chihuly piece at the Krasl, and I could never afford to do anything like that, but that was my vision, something like that, and it will truly create a wow factor when you walk in the door to Timothy's and even at a sideways glance you'll see it out of the corner of your eye without even really looking."
Timothy says of the artists, "They spent the better part of a year doing it, and they are supremely organized with their studio in Bridgman and their home studio in St. Joe where they create things like this, and each piece is individually hand-crafted. They cut it, they put it into the kiln, and then bring it here for installation, and they did a truly wonderful job."
Odyssey of the Sea is not alone in the house at Timothy's when it comes to regional excellence in art. While that centerpiece is well over 400 individual pieces, there is also another major art piece in the main dining room that was obtained during the Krasl Art Fair on the Bluff, and Tim says, "We have some glass pieces designed by an artist who was at the Art Fair who does all the custom-made pieces of China for the Wrigley family in Chicago and their homes all over the world."
In the bar there is a series of cow art pieces created by Joe Hindley from Sawyer. Hindley was born in 1949 in Neptune, New Jersey, and grew up on the Jersey Shore. He attended the Newark School of Fine and Industrial Art graduating in 1970. Drafted into the army after college in 1970, he was trained and worked as a photographer when not engaged to paint historical murals at Fort Riley in Kansas. During his service he was also selected to the Combat Artist Team, a select group of four artists working for the Department of Military History in Washington D.C., and his work from that program hangs in the Pentagon and earned him a distinguished service medal. Hindley moved to Chicago in 1980 and had considerable success with a series of works in the Chicago Imagist style, before moving to Sawyer.
Of Hindley, Timothy says, "I love his cows."
Roger Harvey from New Buffalo is showcased in the back dining room and can be seen before venturing out onto the patio. Timothy says, "He does barns and trees and lots of color. I like art that pops with color." Roger Harvey is a painter of Midwestern scenes of farms, dunes, woodlands and Lake Michigan. Large in scale and colorful in detail the paintings range from beautiful realism to daring abstracts, often within the same painting. Harvey has his own gallery at 33 N. Barton in New Buffalo. Pure Michigan describes his work by saying, "His paintings employ a bold palate with a dynamic play of light and shadow. As Harbor Country's pre-eminent colorist, Roger creates works that have been described as 'vibrant, joyful, elegant portrayals of nature, certain to stir even the most urban soul.'"
As Timothy proudly declares, "We don't just slap anything on the walls, we actively watch out for things that fit our motif and blend well with the rest of the collection. We even routinely change the color of the glow of the in-wall fireplace in the main dining room to keep things fresh."
O'Hearn & Fielding give Timothy great props for his support of the arts, saying, "His support of local arts organizations spans throughout all of Berrien County. The arts community is so lucky to have him."
While Odyssey of the Sea largely represents Timothy's vision, he readily gives over accolades for the majority of the Timothy's Restaurant vibe to his wife, saying, "I have to give my wife Amy most of the credit for the décor. There are a few of my ideas here, but she's done a spectacular job. We started out with a fireplace in one room and now we have several key fireplaces including a ski-lodge style one in the front room bar area, and we even have two fireplaces outside. We're continuing to do great things. If you remember Pee Wee's Playhouse, we're having two similar very colorful chairs made that will be delivered soon for the front entry way. Multiple colors to set the stage for your visit."
While the art in the house makes for an exciting, colorful and even educational visit, Timothy readily declares, "Obviously, the food is first and foremost, and I think we do a good job of that, but this is such a cool building with all of the windows and all the great things that the Miller's did years ago when they first established a dining opportunity here. We just keep adding to it, and it's easy to do. It's not like it's rocket science or anything, we just want people to continually come and join us to find out what else is new and happening all the time." He certainly makes it easy to enjoy on all counts as a first-class destination for both culinary and cultural excellence on the shores of Lake Michigan.
Source: Moody on the Market
Full story at: https://www.moodyonthemarket.com/timothys-restaurant-of-harbor-country-crafts-excellence-palette-for-palate/