South Haven Class of 2020 Pathway Project Mural is Underway
A major community mural in downtown South Haven, saluting the community's High School Class of 2020 and sponsored by Project Pathway, got underway on Friday, and already organizers are very excited to see the mural progress. The mural is being placed on the south wall of the Michigan Theatre, and they are encouraging everyone to see the artist, Kayla Ridely, in action over the next few weeks as she creates the amazing artwork. The accompanying bird sculptures have been created and are ready for installation as well, when the mural is complete. Beyer Construction along with the sculptor, Kathy Kreager, will be installing the birds for all businesses who have purchased a bird for their buildings.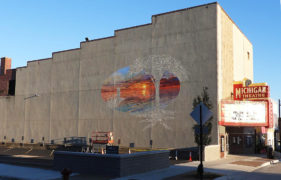 As for the group's fundraising, they report that they are only a quarter of the way to their goal at this time. Five downtown businesses have purchased birds for their buildings, a few parents have sponsored birds for their children, and they have also received donations from generous residents. Recently the group learned that Glik's is celebrating their 123rd year in business and they decided to give back to the communities that they are located in by donating 10-percent of their business for a day, and the South Haven Store has chosen the downtown mural as their selection.  They will be donating 10-percent of their sales on October 6th to the Project Pathway mural.
Anyone interested in making a donation to the central business district project can contact Marla Bruemmer at marla.projectpathway.org or use Paypal on the website http://projectpathway.org for a direct deposit. Business owners wishing to take part in the organization's Find a Bird/Student throughout town can contact Marla Bruemmer for an order form, and parents or anyone wishing to purchase an honorary bird for their student can contact the project directors as well.
The photos accompanying this story on Moody on the Market are courtesy of Tom Renner of South Haven.
You can read the original story outlining the Pathway Project from Moody on the Market at this link:
https://www.moodyonthemarket.com/project-pathway-raising-funds-for-public-art-tribute-to-south-haven-class-of-2020/
Source: Moody on the Market
Full story at: https://www.moodyonthemarket.com/south-haven-class-of-2020-pathway-project-mural-is-underway/