Silver Harbor Brewing of St. Joe Claims Silver Medal at Great American Beer Fest
The things that inspire us are often times legendary. Like Silver Harbor Brewing Company's Brew Master Christian Cook's love for his grandmother's strawberry rhubarb pie. Cook was so enamored with that great recipe he recently named one of his St. Joe microbrews after it, and now it is a Silver Medal Winner at the Great American Beer Festival.
Cook says it's a good thing that his Grandma's Favorite Recipe beer earned Silver Medal honors so at least he can prove to her that somebody likes it, because he reports that she is not a fan of that beer herself.
Silver Harbor Brewing received the Silver Medal at the 2020 Great American Beer Festival in the Fruit Wheat Beer category with Grandma's Favorite Recipe.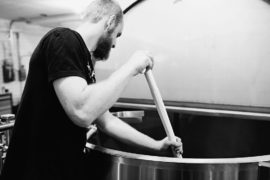 Christian Cook, who is Head Brew Master and Owner at Silver Harbor Brewing says that judges for the 34th edition of the prestigious competition evaluated 8,806 entries from 1,720 breweries in all 50 state plus Washington DC. The judging took place in 35 sessions over 18 days with strict safety measures in place. The awards ceremony was held virtually last evening, Friday, October 17th, kicking off the two-day event.
Chris Swersey, Competition Manager for the Great American Beer Festival, says, "This year's GFAB competition may have looked a little different, but the beers entered into the competition were as impressive and innovative as ever." He adds, "This has arguably been one of the most challenging years breweries have ever faced, so we hope these awards serve as a symbol not only of brewing excellence but also the resiliency of the craft brewing community as a whole."
Winning at the Great American Beer Festival isn't new to Christian. You may recall we reported her a few years ago that he took Gold for Shipfaced, an English Barleywine (beer) but after a year like 2020 it might be the most celebrated.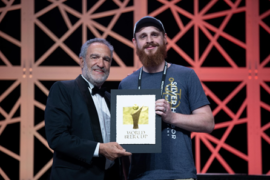 From home brewer just four years ago to a multiple beer and medal winner at one of the World's largest beer competitions it continues to shock Cook that he's competing at this level with so many talented brewers and able to represent the Silver Harbor team and the Southwest Michigan community is a dream come true.
Cook says, "Every day I get the opportunity to do what I love and I'm beyond honored to win Silver this year with Grandma's Favorite Recipe." He adds, "Grandma's Favorite Recipe was actually inspired by my Grandma's pie and I brewed it to create a beer she'd love but she's not a fan. At least I have a medal to showcase to her that someone loves it."
Cook's co-owner at Silver Harbor, Michael Gross, says, "This is such a great beer, so drinkable with fresh local fruits so its not only great to showcase the beer but the farms from the great Southwest Michigan region."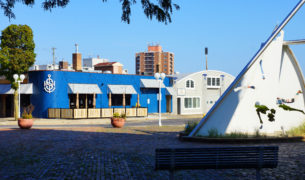 Silver Harbor Brewing Co. is a microbrewery, located in St. Joseph, that specializes in house ales featuring local Michigan ingredients. Silver Harbor prides itself on always pushing the limits in flavor profiles and experimenting with small batch beers. With 15 beers on tap Silver Harbor Brewing Co. has a breadth of offering for everyone.
Grandma's Favorite Recipe, a 5-percent, lactose kettle sour, was inspired by Cook's Grandma's favorite strawberry rhubarb pie, and is sure to be a favorite. A kettle sour with a generous grain bill of oats, wheat and lactose, with the addition of over 400-lbs of Michigan strawberries, and 80-lbs of Michigan rhubarb. As Cook says, "Seriously…liquid strawberry rhubarb pie!"
The award-winning Grandma's Favorite Recipe is available at Silver Harbor Brewing Company by the pint, in to-go crowlers, and growlers or 4-Pack cans can be found at most specialty liquor stores.
With the exception of the last photo of the Silver Harbor building, the photos accompanying this story on Moody on the Market are courtesy of Silver Harbor Brewing Co. in St. Joe.
Source: Moody on the Market
Full story at: https://www.moodyonthemarket.com/silver-harbor-brewing-of-st-joe-claims-silver-medal-at-great-american-beer-fest/