Lake Michigan Catholic SCENE Auction Marks 35th Year in Hybrid, Home Grown Fashion
For 35 years now, organizers, administrators, volunteers, family members and friends of the Lake Michigan Catholic School system in Michigan's Great Southwest have been hosting an annual major school fundraiser called the S.C.E.N.E. Auction — standing for Strong Catholic Education Needs Everyone. This year, due to the ongoing pandemic restrictions, the auction is becoming a hybrid affair being called the Home-Grown SCENE Auction.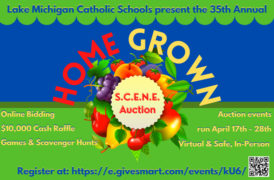 The 35th annual auction goes hybrid, offering up a combination of "Fun, safe, in-person team scavenger hunts and online games," which have been added to the virtual auction bidding and the $10,000 cash raffle.
Events will be held between Saturday, April 17th, and Wednesday, April 28th, to extend the celebration that, along with supporting Catholic education, will honor "Home-Grown" businesses, workers, volunteers, and Laker families who have worked tirelessly on behalf of others throughout the pandemic.
REGISTRATION for Tickets, On-Line Auction Bidding & Games
Anyone can pre-register for event participation and bidding at this link: https://e.givesmart.com/events/kU6/. Auction events, with the exception of the Student Scavenger Hunt, are open to the public and friends of Lake Michigan Catholic Schools. All proceeds support educational programming at Lake Michigan Catholic Schools
$10,000 RAFFLE
Interested parties can buy a raffle ticket to support Catholic education, and get a chance to win $10,000. Tickets are $100 each, and the drawing will take place on Wednesday, April 28th, via Facebook Live. You can call the LMC Business Office at 269-983-5529 to get your ticket now.
SCAVENGER HUNTS
High School Scavenger Hunt, April 17th, 4-5pm: Round up your LMCHS classmates for 2-person teams to compete in this new event that starts and ends at LMCHS and will take you on a fun-filled search for clues around downtown St. Joseph. Tickets are $10 per team member.
Adult Scavenger Hunt, April 24th, 3-6pm: Get ready for some Home Grown Fun as teams of 2 or 4 adults travel around the south Berrien County region seeking clues, completing challenges, and honoring local businesses while supporting Catholic education at LMC Schools. The event starts at LMC Elementary School but ends at LMC High School, where there will be favorite S.C.E.N.E. games of chance, door prizes, and the $500 prize for the winning team. Tickets are $150 per 2-person team or $300 per 4-person team.
For quick access to all of the fun, you can click this QR Code: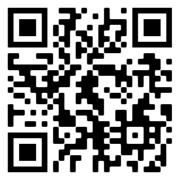 Here's a capsule version of the full schedule of events this year:
March 19th, 2021
High School Scavenger Hunt Team Tickets on Sale
Adult Scavenger Hunt Team Tickets on Sale
April 14th, 2021
Last Day to purchase High School Scavenger Hunt Team Tickets
Last Day to purchase Adult Scavenger Hunt Team Tickets
Saturday, April 17th, 2021
12pm Online Auction Opens for Bidding
12pm Online Games Open for Purchase
3:30pm High School Scavenger Hunt Check-in (HS front steps)
5pm High School Scavenger Hunt Concludes
Saturday, April 24th, 2021
12pm Online Auction Bidding Closes
12pm Online Games & Raffles Close
2:30pm Adult Scavenger Hunt Check-in (Outside Elementary School Gym Door)
6:00pm Adult Scavenger Hunt Concludes (Outside Gym Door)
Online Games & Raffle Winners Announced – TBD
Wednesday, April 28th, 2021
$10,000 Cash Raffle Drawing Announced – Facebook Live
Source: Moody on the Market
Full story at: https://www.moodyonthemarket.com/lake-michigan-catholic-scene-auction-marks-35th-year-in-hybrid-home-grown-fashion/