Honor Credit Union Slates New Berrien Springs Member Center
Ready to invite even more among us to come and be a part of it, Honor Credit Union has announced plans for groundbreaking on a new modern member center in front of their existing location on Old U.S. 31 in Berrien Springs.
While continuing to focus on enhancing the member experience through new self-service and digital solutions, Honor has announced the planned groundbreaking for a new member center at 8952 Old U.S. 31 in Berrien Springs.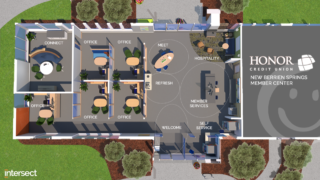 The new facility will serve as a full-service member center with expanded drive-thru hours utilizing ATM Live Tellers. ATMs with Live Tellers, also located inside the lobby, are part of Honor's on-going commitment to enhancing the member experience, pairing face-to-face service with a virtual platform.
Honor's Virtual Member Specialists will assist members in conducting the same financial transactions they are used to performing with a Teller or through the drive thru.
Scott McFarland, Honor's CEO, says, "Berrien Springs has been home to Honor for many years, and we can't begin to thank the community for being such an important part of our family," while adding, "The new member center will continue to provide our community and our members with the tools they need to focus on their finances, along with new self-service solutions to make banking simple and easy."
Using a phased approach, construction will begin soon to relocate the drive-thru canopy and install ATM Live Tellers, reconfigure the entrance from Old U.S. 31, build the new member center facility, and remove the existing structure. The existing Berrien Springs member center will remain open to serve members until early summer of 2021 while the new facility is being built. The new member center is estimated to open its doors to the public next year in the summer of 2021.
Honor Credit Union serves more than 85,000 members across the State of Michigan, driven by the force of providing solutions for financial success and giving back to the communities they serve. For more information, call 800.442.2800, or visit http://www.honorcu.com
Source: Moody on the Market
Full story at: https://www.moodyonthemarket.com/honor-credit-union-slates-new-berrien-springs-member-center/