C12 Peer Advisory Group Appoints Stevensville's Danielle Whah as Regional Managing Chair
Following a 20-year career in Global Consumer Products, including 14 years at Whirlpool Corporation, Danielle Whah of Stevensville says she is shifting gears to follow a calling to start a consulting company, investing in C12, the largest network of Christian CEOs and business owners in the entire nation.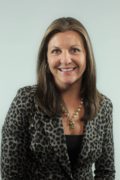 Whah has been named President & Managing Chair of C12 in West Michigan and Northern Indiana by that organization which serves as a peer advisory group to business people.
Danielle will be launching Peer Advisory Groups in new areas for C12, adding to more than 325 groups that are currently meeting worldwide. C12 says that Chairs like Danielle Whah are Christian entrepreneurs with executive experience who draw from their business skills and faith to help business leaders achieve excellence through the power of peers.
Mike Sharrow is CEO for the C12 Group. He says, "We are excited to see Danielle pioneer the West Michigan market, bringing a world-class peer advisory group solution to hundreds of faith-driven CEOs and business owners in the community." He adds, "We have seen considerable growth in these groups over the past year as leaders seek real results, accountability, best practices and eternal significance through the businesses they steward. Danielle is the tip of the spear for what will be a transformative impact across the region."
Danielle is passionate about equipping business owners and CEOs to accomplish immeasurably more than imagined. She is highly motivated and has a relentless passion for winning, building trust and delivering results. Serving as a C12 Chair is a calling that she sees as a natural extension of her growing commitment to driving results and promoting effective servant leadership in business. She is a passionate and committed follower of Christ, wife, mother and business owner. Danielle and her family are active members of Lakeshore Christian Church in St. Joseph.
Danielle invites interested business owners and CEOs to learn more about joining a C12 Peer Advisory Group in West Michigan (including St. Joseph, Grand Rapids, Holland, and Kalamazoo) or Northern Indiana (including South Bend, Mishawaka, Elkhart, and Michigan City) by visiting this link, or emailing Danielle at danielle.whah@c12group.com. Here's the direct link:
http://www.c12group.com/c12-locations/Michigan/west-michigan
C12 Group Peer Advisory Groups feature members from diverse industries, company sizes and structures who meet monthly to encourage and challenge one another to make better decisions, avoid costly mistakes, and create solid plans for business growth, all while striving to create an eternal impact far beyond the bottom line.
Source: Moody on the Market
Full story at: https://www.moodyonthemarket.com/c12-peer-advisory-group-appoints-stevensvilles-danielle-whah-as-regional-managing-chair/