Bridgman Approves Downtown Social District, Next Stop MLCC
Breweries, wineries and restaurants in the community of Bridgman gained a huge moment of celebration Monday night as the Bridgman City Council provided a green light for creation of a critical new Downtown Social District there. The measure still requires the stamp of approval of the Michigan Liquor Control Commission for final authorization.
Bridgman gave those breweries, wineries, and restaurants the reason to celebrate, following their unanimous approval of a resolution and management plan that would establish a social district in the heart of downtown Bridgman.
The plan was crafted by Arthur Havlicek, President & CEO of the Southwest Michigan Regional Chamber, Juan Ganum, City Manager for the City of Bridgman, and Hannah Anderson, Chair of the Bridgman Corridor Improvement Authority.
Social Districts are a relatively new concept in the State of Michigan made possible by legislation that allows for local governments to establish a District within their community. Once approved, patrons of adjacent bars, distilleries, breweries, restaurants, tasting rooms, and similar food service establishments may purchase alcoholic beverages in specially marked open containers to be taken into the District's "Common Areas" for consumption.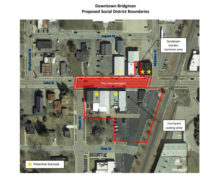 The approved "Bridgman Social District" consists of Lake Street, between Maple Street and Mathieu Street, and the City's municipal parking lot. It's Commons Areas include all sidewalks within the social district, the City's municipal parking lot, and the courtyard owned by Hoof2Hanger/Sandpiper. Qualified licensees that could potentially participate include:
China Café
Lake Street Eats
Lazy Ballerina Winery
Tapistry Brewing Company
Transient Artisan Ales.
Havlicek says, "This district will provide these downtown hospitality establishments the flexibility to safely serve customers beyond their current fifty-percent capacity restriction on indoor dining," and adds, "No longer having to turn these customers away will benefit their business and invariably spur other economic activity throughout the community."
The city also hopes to leverage the inclusion of the municipal parking lot by using it to potentially host live music, open air markets, and other small-scale attractions intended to draw and entertain visitors while they enjoy their refreshments from the surrounding establishments. Outside those occasions, the district will operate year-round, seven days a week, from 11 am to 10 pm under the supervision of the participating establishments and city staff.
Havlicek initially presented the Social District concept at the Bridgman Corridor Improvement Authority (CIA) meeting on March 8th, and again at a joint municipal meeting between the city and Lake Charter Township on March 29th. Since then, Havlicek, Ganum, and Anderson have worked diligently to align the documents and partnerships, and approvals needed for the social district to move forward.
Havlicek says, "First and foremost, I want to extend the Chamber's gratitude to the Bridgman City Council for approving this plan and supporting their downtown business community. Additionally, I'd like to thank our key community partners, the Bridgman Corridor Improvement Authority (CIA) and Bridgman Area Chamber and Growth Alliance (CGA), for their readiness to collaborate and fund the initial expenses associated with getting this district up and running."
Bridgman City Manager, Juan Ganum says, "Several years prior to the pandemic, open container ordinances were being implemented across the country as a means of stimulating economic activity in downtowns," and adds, "Each community should decide for itself whether implementation of a social district is appropriate, but our city council's action to establish a district in Bridgman demonstrates an embrace of collaboration between private and public sectors."
Per state statute, the district is required to have signage marking the district's boundaries and rules, as well as specially designated containers that will be available for purchase from participating establishments. The CIA and CGA have agreed to cost-share some of those initial expenses in an effort to alleviate the amount potential financial investments borne by participating businesses.
Hannah Anderson, Chair of the Bridgman CIA, says, "The Corridor Improvement Authority is looking forward to the development of Bridgman's Social District," while noting, "Over the past year, many people have re-discovered the great outdoors and what it has to offer. This district will allow them to do that while giving our businesses some extra space."
Brett Boyd, Chair of the Bridgman CGA, says, "The CGA is excited to support the efforts for the Social District in Downtown Bridgman," adding, "This idea could help make Bridgman a destination for people to come for the experience and uniqueness of our community. We hope that businesses will not just benefit, but actually flourish because of this extraordinary concept."
Lazy Ballerina Winery's Bridgman Taproom is among the establishments adjacent to the approved District, and its proprietors agree the concept could make a world of difference for their business. Co-Owner Lauren Kneibes even joined the meeting Monday night to speak in favor of the District's approval and to answer a few questions from the perspective of a potential licensee.
Prior to the meeting, Kneibes submitted a Letter of Support which read, in part: "Social districts have already proven to increase tourism in an uncertain economic climate and have boosted sales of struggling restaurants, breweries and wineries who are still trying to make up for the loss of tens of thousands of dollars brought on by indoor dining bans. A social district in in downtown Bridgman would make Bridgman a destination for tourists and allow visitors to see all the great things our small town has to offer."
The Southwestern Michigan Tourist Council also submitted a Letter of Support in advance of the meeting which referenced the need to remain competitive with other lakefront communities, particularly those that already have social districts like Saugatuck, Muskegon, and Ludington. The letter, written by Executive Director Millicent Huminsky, read: "The Southwestern Michigan Tourist Council fully supports establishing a "Social District" in the City of Bridgman… Tourism is the third largest industry in Michigan and we must be successful in capturing our fair share of the market."
All told, forty-five cities and villages across the state have established social districts and Bridgman is the second to do so here in Berrien County. A "Niles Social District" was approved by the Niles City Council last August and was given MLCC authorization just last month.
Havlicek says, "Niles was the true pacesetter when it comes to Social Districts in this county," adding, "We appreciated the generous insight they gave, as well as the guidance we received from other communities around the state."
Havlicek said he'd like to see more area municipalities establish Social Districts to help drive additional revenue towards the region's embattled hospitality industry, suggesting, "Communities across the state have proven these districts are a safe and effective way for local governments to help support their downtown businesses," while concluding, "We encourage all area municipalities to consider how they might incorporate one within their community and to reach out if they want assistance with the process."
Source: Moody on the Market
Full story at: https://www.moodyonthemarket.com/bridgman-approves-downtown-social-district-next-stop-mlcc/