Art Fair Changes Winning Early Endorsements
Operational changes, driven by the pandemic, at this year's Krasl Art Fair on the Bluff are winning early support from artists and visitors.  A Moody On The Market random sampling of on-site reactions Saturday and Sunday indicates both exhibiting artists and Art Fair attendees are generally positive on the changes.
Six artists surveyed all said their booth traffic and sales were good or excellent.   Four out of six said booth were better than expected, since this was the first or second art show they'd participated in since the 2020 shutdown.  Three artists commented on the "quality" of the attendees, meaning there were buyers in the crowd, not simply "casual lookers."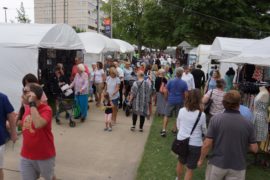 Several art fair goers told us they liked the "openness" this year.  "You could walk into the booths without bumping into other people, and you could take time to look at the art without feeling guilty," according to one attendee.   An artist echoed that, saying he felt shoppers were better able to examine his work than in previous years when the Fair had an unrestricted flow of people.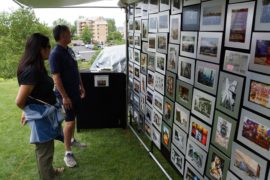 Krasl organizers charged $5 per person for admission to the Fair this year, generating some criticism on social media.  However, attendees we spoke to on-site seemed supportive.  "It's half the cost of a movie or a burger downtown," said one man.  A woman who said she attends the event every year added, "This event is so outstanding, we're happy to pay five bucks!"
Although the ticket line at the Saturday opening was described as longer than expected, there appeared to be no significant  pedestrian bottleneck at the busy "bluff to beach stairway" at Broad Street and Lake Boulevard on either Saturday or Sunday.  Entry points to the North and South sections of the Art Fair were spaced well away from the stairway, allowing Silver Beach foot traffic to flow smoothly past.  Krasl leadership has said they will decide at a later date whether any of the changes will be continued into the future.  2022 will mark the 60th anniversary of the Krasl Art Fair On The Bluff.
Source: Moody on the Market
Full story at: https://www.moodyonthemarket.com/art-fair-changes-winning-early-endorsements/