Armed Robber Hits Family Farm & Home in Benton Township
A brazen armed robber brandishing a gun simply filled a shopping cart at Family Farm & Home in Benton Township this morning and then waltzed out of the business, driving off in a full sized SUV, without paying a dime.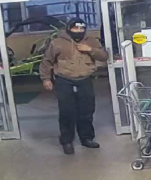 Benton Township Police Detective Lt. Michael DenDooven says that around 9:40am this morning his department was dispatched to Family Farm & Home at 1391 Cinema Way when employees reported that a man entered the business, placed multiple clothing items into a shopping cart, and as he approached the cash registers pushing the car full of merchandise, he brandished an unknown caliber of semi-automatic handgun from his waistband and pointed it at the clerk as he walked out the front door.
Once in the parking lot the man climbed into a silver/gray GMC/Chevy full sized SUV, and drove away.
Benton Township Police are asking anyone with information on the man who helped himself to a cartload of goods to contact the Benton Township Police Department Detective Bureau at (269) 925-1135 or Crime Stoppers at (574) 288-STOP as soon as possible.
Police shared the attached photographs of the suspect and his vehicle.  Benton Township Police have not located a suspect at this time, and no further information is available.
Source: Moody on the Market
Full story at: https://www.moodyonthemarket.com/armed-robber-hits-family-farm-home-in-benton-township/